Kgalagadi - best seasons to visit
The most spectacular season is undoubtedly early autumn (March to April) after good rains when the sun-baked dunes and riverbeds expose their ephemeral charm and produce flower gardens of exquisite splendour.
Twee Rivieren camp is the main and largest rest camp in the Park. The name is derived from the confluence of the Nossob and Auob Rivers which is only about five kilometres upstream.
PHOTO TALE
Dust addiction
I choose freedom. I choose deserts. I choose black and white photography. And that is why I choose Kgalagadi Transfrontier Park more often than most other photographic destinations.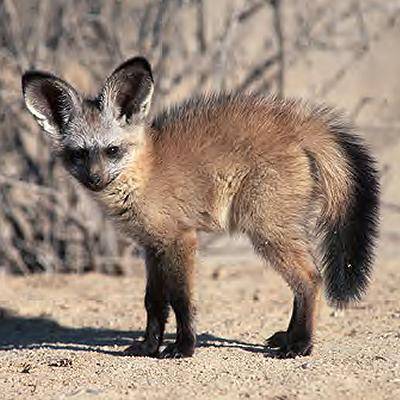 FEATURED ANIMAL
Bat-eared Fox
(Otocyon megalotis)
The bat-eared foxes' enormous ears play an important part in obtaining food. They can often be seen holding their ears low and horizontal to pick up the sounds made by underground insects, which are then dug up and eaten. When not feeding, they rest in the holes of aardvarks or springhares. In summer they tend to be nocturnal, but in winter they spend more time feeding during the day.
PHOTO TIP
To blur or not to blur
That is the question. A question that has tormented many wildlife photographers throughout their photographic careers. I for one am still looking for the answer, which is still somewhat blurred.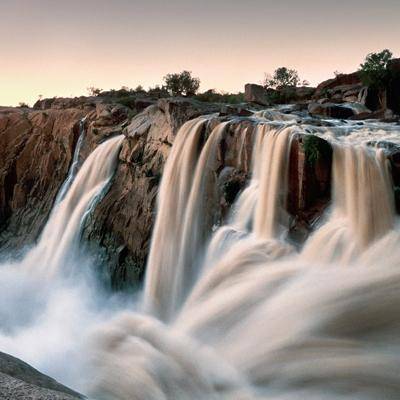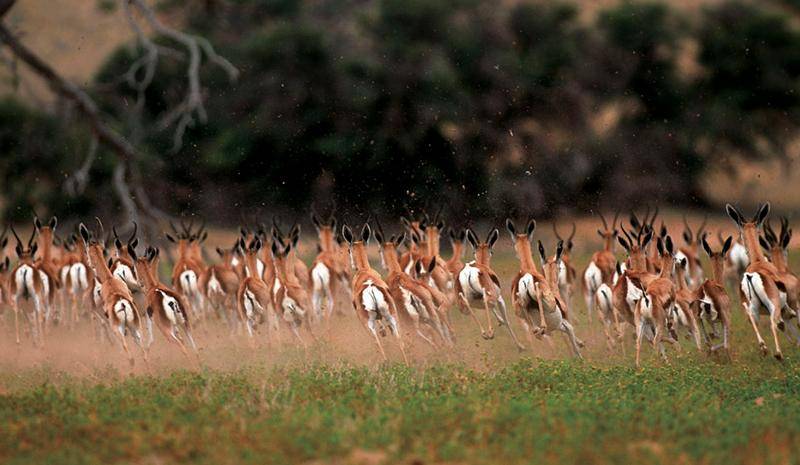 ART IMAGE
Sphinxes and Slaves
Like a shock wave, springbok flee in terror back and forth in this Kalahari riverbed among the dunes. For on the dunes sit the cheetah, like sphinxes on sand pyramids, gazing across their kingdom of slaves.
For a list of the best 6 South African National Parks click here